I want to take a webinar but it will only let me pay through Paypal. I do not use Paypal. How can I pay another way?
When you register for a webinar on zoom and click on the link to pay, you will see first:
and when you click that, use the second option: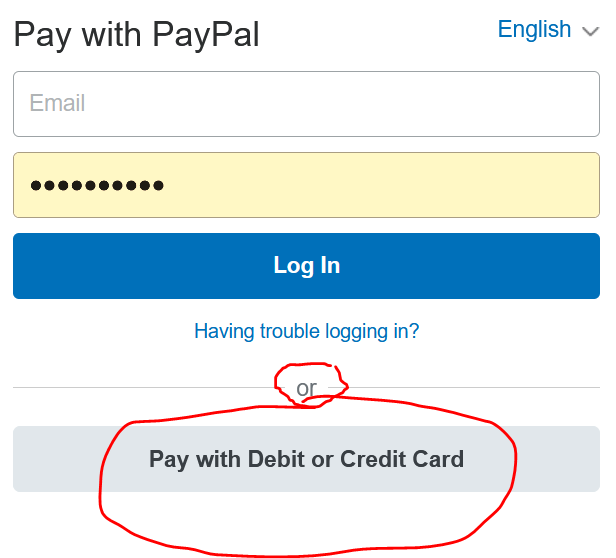 You will not have to set up a PayPal account, nor will PayPal track you. With this option, you can pay directly with a credit card.

Related Articles

Will the webinar be recorded for viewing later?

Yes. For those unable to attend, CE credits (though not live) will be available by viewing the recording and taking the post-test and evaluation. and If you pay and either miss part of the webinar or are unable to attend: Don't worry. You can still ...

What are tokens and how do I use them?

What are tokens and how do I use them? Tokens are essentially used as cash in your account. The more tokens you buy the less you pay per ce credit. Tokens are optional, but if you plan to take several courses, it might be a good option. In case you ...

How do I use my tokens?

To use your tokens to purchase a course please take note of the following steps: 1. Find the course you wish to take and order it. 2. On the next page at the top, you will have the option to "Apply Existing Tokens". Click on the button by the ...

I signed up for a live webinar. It is not listed as a course in my account. Can you add it?

Thank you for signing up to our upcoming webinar. The process required to receive your CEs when you register for a webinar is different than when you purchase a regular course on our website. When you register for a webinar you will not see the ...

What are the exact steps I will take upon registration and to create an account?

FIRST: Choose an online course from our listings or other indexes. Click on the"Order Now" button. If you are a New User, click the New User link and create a new account. Use a unique email address, not that of someone who has already registered ...